Systematic Review
A systematic review is designed to summarise the results of available studies and provides a high level of evidence-based findings on the effectiveness of interventions. Our experts can handle any type of research, whether you need systematic review based on controlled clinical trials or review based on observational study designs or community (e.g. psychology) intervention? Our experts at Pubrica, perform a rigorous systematic review by following multi-step process, which includes
(a) Identifying a well-focused clinically relevant research question while following suitable frameworks including PICO, SPICE, SPIDER, and ECLIPSE etc.
(b) Developing a detailed review protocol with strict inclusion and exclusion criteria and registering the protocol at different registries such as The Campbell Collaboration, The Cochrane Collaboration, OSF Preregistration, SYREAF-systematic reviews for animals and food, Research Registry, Joanna Briggs Institute (JBI) and PROSPERO.
(c) A systematic literature search of multiple databases (includes PubMed, Embase, MEDLINE, Web of Science, and Google Scholar) in finding relevant references that further requires extensive search and study. A number of other electronic databases and bibliographic sources will also be searched. Sources we posit for use for the project include:
Scientific literature databases as described above and others
Cochrane Library
Database of Abstracts of Reviews of Effectiveness (DARE)
NHS Economic Evaluation database
Material referenced in Publications obtained in the course of research on the topic
International Network of Agencies for Health Technology Assessment (INAHTA) documents
Clinical trials databases, including clinicaltrialsregister.eu (EU), clinicaltrials.gov (US) and others.
However, using multiple databases to search relevant studies is laborious and time-consuming so that a well-designed search strategy will be developed.
(d) Meticulous study identification using a variety of search terms, checking for a clear outcome (primary and secondary)
(e) Systematic data abstraction, by at least two sets of investigators independently,
(f) Risk of bias assessment with the use of existing different assessment tools (e.g. STROBE). For example, allocation concealment (selection bias), incomplete outcome data addressed (attrition bias), and selective reporting (reporting bias).
(g) Thoughtful quantitative synthesis through meta-analysis where relevant. Besides informing guidelines, credible systematic reviews and quality of evidence assessment can help identify key knowledge gaps for future studies.
We can help you with the most used qualitative systematic review, as well as, quantitative, health policy and management information and meta-analysis.
Our systematic review at Pubrica is more structured as at every stage of writing, and we ensure to critically check the rigour using standard methodological checklists such as PRISMA, CASP, AMSTAR, and ARIF etc., based on the checklist provided.
Further, the general structure is presented as follows:
Formulate the research question
Selection of studies
Findings are interpreted.
Our Experts:
Pubrica Healthcare and Medical Research Experts provide custom scientific research writing and analytics (data science & biostatistics) services that have a team of experienced researchers and writers who are available round the clock and ready to assist you with the systematic review writing. We have PhD level domain experts who also have decades of scientific writing experience. As such, we have the capability to deliver a high calibre, written literature review. Our experts are very facile around scientific literature databases to complete the literature review, including PubMed & Medline and cancer domain expertise to selectively identify impactful journal articles to draw upon for the review. Written status reports will be shared at every milestone completion including
1) an overview of the status of completion of deliverables including specifics of the literature search and environmental scans;
2) a description of progress addressing discrete components of the Report as agreed;
3) a description of challenges encountered, potential risks and associated mitigation strategies.
Pubrica has done plethora of work in the area of systematic reviews for authors, medical device, pharmaceutical companies and policy makers. Our SR experts ensure to collate empirical evidence that fits prespecified eligibility criteria, an assess its validity through risk of bias, and present and synthesis the attributes and findings from the studies used. All tasks in compliance to PRISMA guidelines and other reporting standards.
We deliver study designs balanced to meet your business needs and expectations with the current scientific understanding and all regulatory requirements considered.
Allow us to help propel your product forward.
Expert Assistance: "Moving from individual, informal tracking Pubrica's Systematic review service has saved me innumerable hours and costs. They gave me the tools support and control assistance I needed to ensure thorough screening by analysts and clinicians at various locations."
- Rory K., PHD Student, Tulsa.
Quality delivery: "With Pubrica, I was able to produce high quality, accurate work in a much more timely fashion. I really liked what I saw in the final draft, and I was able to get up and running right away with access to live support anytime we need it."
- Melba R., PHD Student, South Hadley.
Client Satisfaction: "I can't think of a way to do reviews faster than with Pubrica. Being able to monitor progress and collaborate with colleagues makes my life a lot easier."
- Fred A., Springfield.
High Level Experts: "Pubrica is an indispensable part of my systematic review and has allowed me to complete my research effectively and efficiently. It's enabled me to better manage my increased volume of work."
- Mary V., PHD Student, Lexington.
Trust: "With Pubrica's systematic review service, I could get my research's Systematic reviews done and approved quickly and efficiently. The feedback from the notified bodies about the quality and presentation of my systematic review has been extremely positive."
- Glen G., PHD Student, Lexington.
On time delivery: "Pubrica has been instrumental in improving my ability to review full text articles in an efficient and consistent manner. My guide loves the PRISMA diagrams and process outputs which helped me in delivering compliant results that meet their expectations."
- Laura S., PHD Student, Lincoln.
Previous
Next
We'll scale
up as your needs grow.
No compromising on integrity and quality. Our processes are well defined and flexible to ramp up as per your requirements.
Partnering with
you till the project end.
We come with you all the way. From design to market support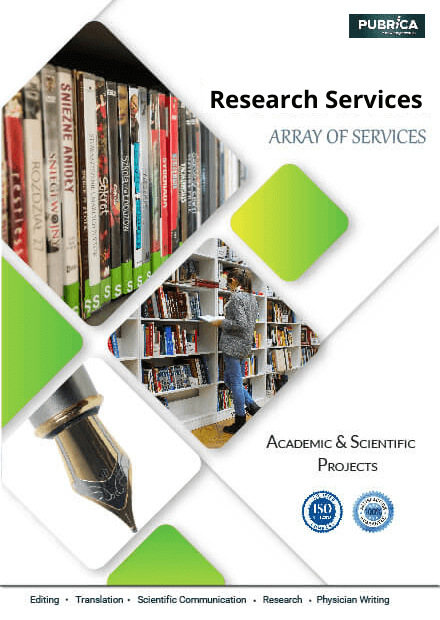 Pubrica Offerings
Pubrica offers you complete publishing support across a variety of publications, journals, and books. You can now morph your concepts into incisive reports with our array of writing services: regulatory writing, Clinical Report Forms (CRF), biostatistics, manuscripts, business writing, physician reports, medical writing and more. Experts in Science, Technology, Engineering and Mathematics (STEM), and pundits with therapeutic repertoire. Publishing that medical paper or getting a regulatory drug approval is now easy. Save time and money through Pubrica's support.
Download brochure on our offerings (PDF).
Frequently asked questions
We are with you the whole nine yards. In this section, we answer the tough questions. For any information, contact us via +91-9884350006 meanwhile, here are some of those queries
1
What services do you offer under Systematic Review Services?
We provide a wide variety of services such as identifying a well-defined focused clinically relevant question, developing a detailed review protocol with strict inclusion and exclusion criteria, systematic literature search meticulous study identification and systematic data abstraction risk of bias assessment, and thoughtful quantitative synthesis through meta-analysis
2
What you deliver while ordering the Systematic Review Services?
Delivery depends on the order type. However, despite the type of order, if you require literature survey chapter, we will provide extensive and critical writing, identifying controversial in literature, referenced documents, fully formatted document, and assurance of plagiarism. Besides, under the Elite plan, we also link the problem gap with the current literature and provide you with a clear problem statement.
3
What are the different programs available under Systematic Review Services?
4
What Information do I need to provide while placing an order for Systematic Review Services?
To choose the Systematic Review Services, we need clear & precise Domain area. E.g., Medical, Bio-medical, clinical research, Area of interest, Target Country. E.g. the UK, Target State, if any or generalized UK population, Research question, Clearly defining Eligibility criteria, Should have completed Systematic Review., University guidelines and also we need following information such as your Qualification, specialization, University, Country, Your experience, possible areas of your interest, Your supervisor capability and university interest, new methodology that is based on related to your Research and area of interest.
5
What are the qualifications for the writers you employ?
Pubrica hires only experienced and certified professionals from European and UK base. All of our medical writers hold Master and PhD degree and have at least five years of writing experience. Each medical writer have their specialization; it helps us to allocate the most appropriate writer according to your discipline. You will get only subject expertise, that's our assurance, i.e., every order of thesis provide only a relevant research background.
6
What are the procedures once I order for Systematic Review Services?
After confirming your order, work will be assigned to Project Associates (PA), who will check the order according to the requirement. The order will, later on, assign to specific subject experts after signing a non-disclosure agreement. She/he will start working on the project as per the agreed deliverables. The order will be delivered after thorough quality check and assurance by the Quality Assurance Department (QAD) and will be given for plagiarism check. After that, you will get the QAD and plagiarism report.
7
If I am not satisfied with the work that you delivered, will you refund?
Our work is completely based on your order and requirement. We promise on following guarantees: (1) On-time delivery (2) Plagiarism free and Unique Content (with the acceptability of less than 5-10% plagiarism) (3) Exact match with your requirements (4) Engaging Subject or domain experts for your project. If there is any deviation in the mentioned guarantees, we take 100% responsibility to compensate. However, the quality of work delivered may also get hampered when there is no precise requirement. In that case, you need to take up a fresh order.
8
What service guarantee's that you provide within the order?
We promise on following guarantees: (1) On-time delivery (2) Plagiarism free and Unique Content (with the acceptability of less than 5-10% plagiarism) (3) Exact match with your order requirements (4) Engaging Subject or domain experts for your project. If there is any deviation in the above guarantees, we take 100% responsibility to compensate.
9
Do you outsource your medical writers for projects?
Yes, at Scientific Writing & Publishing Support, our motto is to work hands-on with clients. We guarantee 100% project satisfaction. So we go exceed their expectations. Full-fledged writing services across all domains; moreover, we also provide animation, regulatory writing, medical writing, research, and biostatistical programming services as well. Call us now to get a quote.