The Impact of 3D Medical Animation in the Healthcare Industry
From the 14th-century human anatomy drawings of Leonardo Da Vinci to the latest modern visual communication are no match to 3D medical animation. As per Forrester Research, a one minute of video is worth 1.8 million words. 3D medical animation is 60,000 times fast than processing text-based information.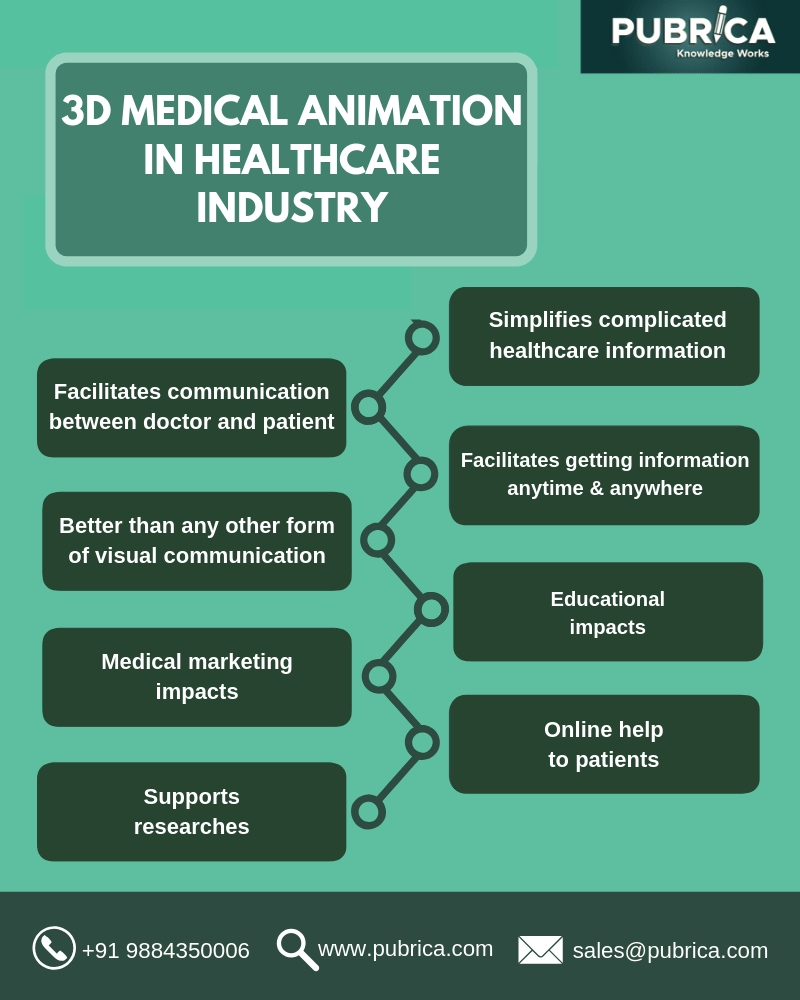 Visuals better than audio for communication:
Many studies have confirmed that people remember 80 % of what they saw compared to 10 % of what they hear. That is why more than 65 % of people are visual learners. And 3D medical animation videos results in 19 % higher comprehension than the standard surgical videos.
The plight of the patients solved by 3D medical animation:
The common issue among a large portion of the patients is that they do not understand the modern medical terms and medical procedure. Hence their communication with doctors and even with pharmacists is a daunting task. A common patient does not easily understand new inventions due to lack of communication. It is where the 3D medical animation come in handy and of great help to all in the medical field concerned.
Since medical science is of more storytelling than its usual classic approach, there is always a need for competent and dynamic communication. Human body evolves and mutates, and a sophisticated, dynamic, and facile communication is critical for communicating the multifaceted functionalities of the human body. The healthcare industry is a vast field of scientific presenters. There is always a constant need for:
Complex explanation
Demonstration
Learning and rationalization for dynamic mechanisms
3D medical animation better than slide shows:
PowerPoint presentations with a salvo of slides, graphs, and charts to potential clients and target audiences are the norm for long. But 1 minute of 3D medical animation is better than the 60 minutes worth of slides. Also, patients and the general public can easily comprehend and enjoy watching 3D animation. It can view things that are not seen by the naked eye with a wider scale of methods to medical procedures and medical mechanics.
So, what is 3d medical animation?
3D medical animation is now an integral part and tool for medical students and professionals. It also helps in medical marketing and creation of animated explaining videos. Explaining 3D medical animation in this context, it is using a frontline 3D computer graphics to convey many medical facts as a stupendous subtle element with crystal clear clarity. It can be utilized to transfer vital data by non-medical workforce also.
3D medical animation keeps up with time:
In today's medical world, information overload is the main challenge in communication. The overload of existing data makes it difficult for the incoming vital new data. For this, a new focused, custom made methodology is required. It should provide new data in compact, flawlessly bundled pieces in a seamless manner. It is what precisely the 3D medical animation does.
Today, 3D medical animation is providing value to the healthcare industry in a variety of ways. Many professionals in the industry now believe that it can bring in more areas like education, marketing, and patient communication. Also, with the rapid development in the IT sector, even high quality 3D medical animation is more cost-effective now than before to explain even the complex healthcare-related topics. This fast gaining popularity of 3D medical animation is evident from the Grand View Research forecast for its global market to expand 514 million dollars by 2024.
The positive impacts of 3D medical animation on the healthcare industry include:
1. Simplifies complicated healthcare information
With 3D medical animation, even a layperson can understand the medical information without its jargons. Hence it becomes informative and influential on the patients to make them remember for a long time.
2. Facilitates communication between doctor and patient:
Doctors who previously found explaining the disease or the recommendations of medicines tough to patients are now easily doing it with 3D medical animation.
3. Facilitates getting information anytime & anywhere:
With the recording specific information from the doctors, the patients can view it anytime and anywhere. It reduces the burden on the doctors for repeated explanations and also for patients to adhere to the recommendations properly.
4. Better than any other form of visual communication:
Since it allows showing the movements by slowing down of speeding up or in whatever way the patients' want for better understanding It is possible to
Zoom down to the molecular level Deconstruct a device for showing how it works
Show footage of any medical procedure without showing them the parts that could make them uncomfortable is possible. With 3D medical animation, where creativity is the only limit
5. Educational impacts:
Educators are using this tool for:
Training students and medical professionals
Explain a broad range of topics
Visual demonstration of drugs' mechanism
Provides an opportunity for students to see how a surgery or medical procedure is conducted
How to use a complicated device
E-leaning possible to train anytime and anywhere
Helps to improve retention of vital information and in-depth understanding of students
6. Medical marketing impacts:
In this fast-paced world explaining to doctors of new medicines and their usages are made easy within the limited time. Also, to patients and investor who lack medical knowledge, it could be a boon to them.
7. Online help to patients:
Medical institutions can upload 3D medical animation to their websites for the patients to know in detail about their functioning even without visiting the hospital. It could give a clear understanding of what to expect from the doctors. Also, to know beforehand what are the procedures and medications for their ailments?
8. Supports researches:
Scientific and medical researches benefit a lot by conveying the right idea even at an early stage. Due to its illustration of medical processes which are superior to other traditional methods, results in the fulfillment of the researches. Also, with the combination of medical scientists and 3D animators, the output could be captivating the dreams of the viewers.

3D medical animations could not completely replace person to person communication until now. But it well augments the medical professionals' communications to patients in a lot of ways for better treatment.
Tags:
Biostatistical Programming | Clinical trials | journal Publishing services | Scientific Editing Services | Medical Writing Services | scientific research writing service | Scientific Medical communication service
Related Topics:
Literature gap and future research
Meta-Analysis in evidence-based research