Sharing is caring!
META-ANALYSIS EVALUATION ON THE EFFECTS OF PSYCHOLOGICAL TREATMENT
---
When Gene V Glass in 1976 illustrated the first use of meta-analysis, he ended the debate started 25 years ago by Eysenck. He found that there are no favorable effects of psychotherapy in his 1952 article, "The effects of Psychotherapy An Evaluation" published in the Journal of Consulting Psychology. Gene V Glass aggregated the findings of 475 psychotherapy outcome studies to prove Eysenck wrong. Ever since meta-analysis become an invaluable research tool and a golden standard for research papers to be published by journals.
Meta-analysis study has rapidly gained momentum as a stand-alone discipline with psychology practitioners straddling between statisticians and librarians. With so many researches being published, the increasing availability of medical research is overwhelming. And only meta-analysis can save their time spent on reading expensive and potentially intrusive repeated
research studies. It is the reason for statistical meta-analysis to be widely used to evaluate the effects of psychological treatments in spite of some disadvantages.
Limitations of meta-analysis evaluation continue to confuse the clarity in evaluating the effects of psychological treatment. It is in spite of its consistent proof that behavioral therapies are predominantly more effective than many alternative forms of psychological treatments. Also, the criticisms continue on methodologically poor studies in psychological treatments. For countering these criticisms, many attempts are reviewed. The problems like statistical, conceptual, and clinical which are inherent in deriving useful units of analysis or the effect sizes for meta-analysis are highlighted. But, there was no logical or empirical demonstration on the inadequacy of meta-analysis research
The evaluation of the effects of psychological treatment can be known from the first of meta-analysis research conducted by Gene Glass and his colleagues Smith and Miller. The summarized epidemiological study design compared the effectiveness of therapy against a control group. More than 475 studies were identified from various sources and used over 10,000 research participants. Effect sizes of the measure of the effectiveness of psychological treatments were created for each study. An effect size of 0.85 was found as the influence of the psychological treatments. It proved to the world that psychological treatments had a relatively huge positive effect on recovery. It confirmed that receiving psychological treatment for behavioral problems is hugely better than without treatment.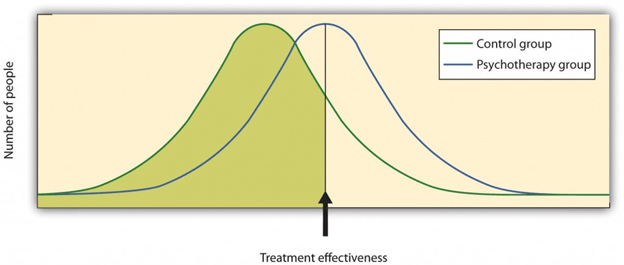 Meta-analysis methodology finds substantial support for the effectiveness of specific psychological treatments like CBT or Cognitive Therapy, couples & family therapy, and many others. They were all included as a list of empirically supported therapies known to be effective in evaluating the psychological treatments.
Reasons for meta-analysis to be effective in the evaluation of psychological treatment
Systematic execution in finding the appropriate evidence
Following certain criteria
Containing a huge pool of results
Based on quantitative analysis
Providing vital trends to influence future research
Gives excellent results to enhance policymakers' decisions
Summarizing and integrating vast and diverse literature
Applies systematic and quantitative methods
Reduces subjective bias
Overcomes personal and professional bias
Allows results to be a more objective and accurate evaluation of the evidence
Effect size arrived by statistical Meta-analysis gives a crystal clear evidence of research
Identifies heterogeneity among meta analysis quantitative results
Provides an appropriate summary measure of many research studies
Increases statistical power and precision
Develops, refines and test hypothesis
Reduces the subjectivity of study comparisons
Identifies knowledge gap in the literature review
Suggests direction for future psychological researches
Calculates the sample sizes of future studies
Analyze differences of integrated results and summarizing them
Evaluate effects among diverse subsets of participants
Creates new hypotheses for inspiring future clinical studies
Eliminates the restrictions of small sample sizes
Establishes statistical significance
Reviews multiple studies across the same subject area of research
Increases the validity of any observed differences
Improves the reliability of the information
Includes greater statistical power
Extensive ability to extrapolate to the higher population with evidence
Disadvantages of meta-analysis:
Though meta analysis quantitative previous research data to provide comprehensive and compelling evidence for decades now, it also has some disadvantages like
Difficult and time-consuming to identify all of the appropriate studies for the meta analysis methodology
Requires complex statistical skills and techniques
It analyses only published and searchable research information
It fails on evaluating the effects on individuals as its main focus is solely on mean results and differences among various studies
Controversies clouding meta-analysis evaluation:
Meta-analysis is sure a fundamentally profound research tool for evaluating the effects of psychological treatment. But the controversy lies only on its procedures the researches use. Bias and misleading results due to even minor deviations from the specified protocol affects the evaluation of the meta-analysis study. There are much bias found even on peer-reviewed researches like
Publication bias:
Only positive studies have more chances of publication which results in publication bias.
Search bias:
Unintentionally biased results occur during a search of studies due to
Inadequate keywords
Different strategies to search databases
Type of search engine
Selection bias:
Undefined criteria in selecting from the long list of potential previous studies
Aggregation bias:
The bias of what is right for the group should also be real for a sub-group or an individual leading to ecological fallacy.
Estimate the mean effect size through preliminary studies
Assess the heterogeneity of the effect size evaluation of the mean effect size
Search moderators or the differential characteristics of the studies to explain part of the heterogeneity of the individual effect size evaluations
Psychological treatment effects are well evaluated by meta-analysis.  Only the inferior procedure adopted during meta-analysis creates confusion and restricts the use of meta-analysis.  Still, it is considered as the golden standard for all researches to be published in journals and read by the scientific community.
Tags:
Meta analysis study | Meta analysis | Meta analysis evaluation | Meta analysis research | epidemiological study design