Importance of Ethical Codes & Considerations in Research of Conduct for Researchers
Ethics is more of an innate quality for humans to develop further for a better life. It is the same for researches also. But there are ethical codes by certain government agencies, who publish specific ethical codes to conduct research and report them.
There are many reasons for adhering to certain basic ethical norms of scientific conduct during academic research like:
To maintain the credibility of the scientific community
For the proper perception of the people to judge and accept the new results
To increase the authenticity of the published research results for its readers and scientific fraternity
To be recognized in today's competitive nature of research
To promote the essential values to collaborative work as researches are mostly teamwork and need mutual respect to conduct the research smoothly and successfully.
To promote moral and social values along with the aims and results of the research
To publish findings of the research transparently
No to do or report faulty work or plagiarizing others' work
To be accountable for the research being funded by public money, as many researchers are responsible for their actions during research. They are bound by regulations on conflict of interest, misconduct, and research involving humans or animals. They also have to ensure that public money has to be appropriately spent on the research. Table 1 presents the agencies related to research fund.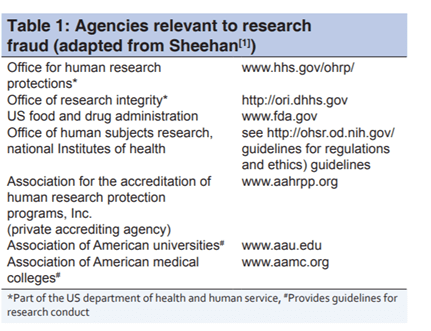 Ethic codes for conduct of researchers:
Apart from the above important considerations for research, there are specific ethical codes prescribed by many Government agencies who fund for the research. Most of them publish their ethical codes, which are mostly advisable, and some may have legal implications.
Reporting researches honestly without any manipulation of data and others
Avoiding all kind of bias in research including design, data, analysis, interpretation and also peer review
Avoiding mistakes by reviewing the research thoroughly and carefully
Safekeeping of all the information regarding the research for future reference
Having an openness to share data and any new tools and techniques developed during the research
Being aware of the legalities concerned with the research area
The most important part of ethical codes and considerations is, even though if you do nothing illegal, doing something unethical, may land you in trouble. It may also end your research career, and hence being aware of ethical codes of government researches is crucial. Here are certain dos and do not's while writing your research:
Ethical do's for research:
Maintain a precise record of all your research activities
Report your data in most cautiously and objectively possible
During your research on animals and trees, treat them with respect, care and empathy
Respect all the intellectual property you use in the research and give them their due credit in your research for their contributions
Maintain confidentiality wherever necessary during the research

Ethical do not's for research:
During research never fabricate, manipulate or misrepresent data
Do not have a bias in data interpretation, peer review, or in personal decisions
Never try to deceive your research sponsors, colleagues or ethical committees with malpractices
Never use any existing external research data either published or unpublished without permission
Strictly avoid Plagiarism and self-plagiarism
Do not support irresponsible publication practices
Do not duplicate publications, salami publication or redundant publications
Without considering ethical issues, do not conduct research in humans , and or animals
Do not ignore outliers, missing data, reporting post-hoc analysis without declaring them
Do disclose a conflict of interest
For your further reference, the following example of an unethical Tom who extrapolates the results without completing them in full will help you. The main goal of your research should be to advance science and share knowledge rather than to finish it in haste. Then, you will never face any ethical issues.
Tags:
Ethical Codes in Research articles | Ethical Research | Ethics in Scientific Research | Scientific Writing | medical manuscript | medical writing | Research writing help