Can Meta-Analysis be Systematic Review?
One common misinterpretation about meta-analysis and systematic reviews is that both the terms are same. They can also be used alternative to each other. However, this does not hold true. Even though there is a considerable similarity of features between meta-analysis and systematic reviews the two are not same. A following difference will help understand more.
Definition of a systematic review: A systematic review is an in-detail, clear and systematic way of collecting, evaluating and synthesis of evidence that will answer your question of study.
Definition of meta-analysis: Meta-analysis is a statistical approach or procedure for accumulating data in the form of values or numerical from different studies. A meta-analysis should be carried out in the manner of a systematic review.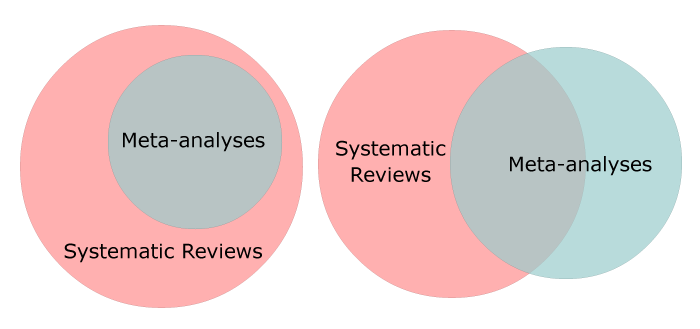 Fig 3. Difference between systematic review and meta-analysis
The highlighting point about systematic reviews is that they opt to reduce bias at all steps of the reviewing process. Reviews that are usually registered with organizations like Cochrane and Campbell are highly reliable. Every author or researcher is required to cohere to the given standards of reporting and conducting (META-EVIDENCE BLOG, 2018) .
Following are the stages in conducting a review
Definition of the question: A researcher should always define their question. They are ideally expected to register their preferred review label with Campbell or any identical form.
Formation of a protocol: Proper specification and publishing of the suggested methodology helps form a proper protocol.
Search the literature: Carrying out an in-depth search of the literature associated with your study is also very essential.
Analyze you results: Analyzing the search outcomes or results and comparing them with your prescribed selection or exclusion criteria that helps to determine the studies that need to be included.
Quality appraising of the stud: This proves very important to determine the quality of study that is found.
Synthesis: The evidence should be synthesized. This is one major step during which meta-analysis might or might not play role.
Publish and publicize the review
Updating: The review should be updated when fresh evidence is received.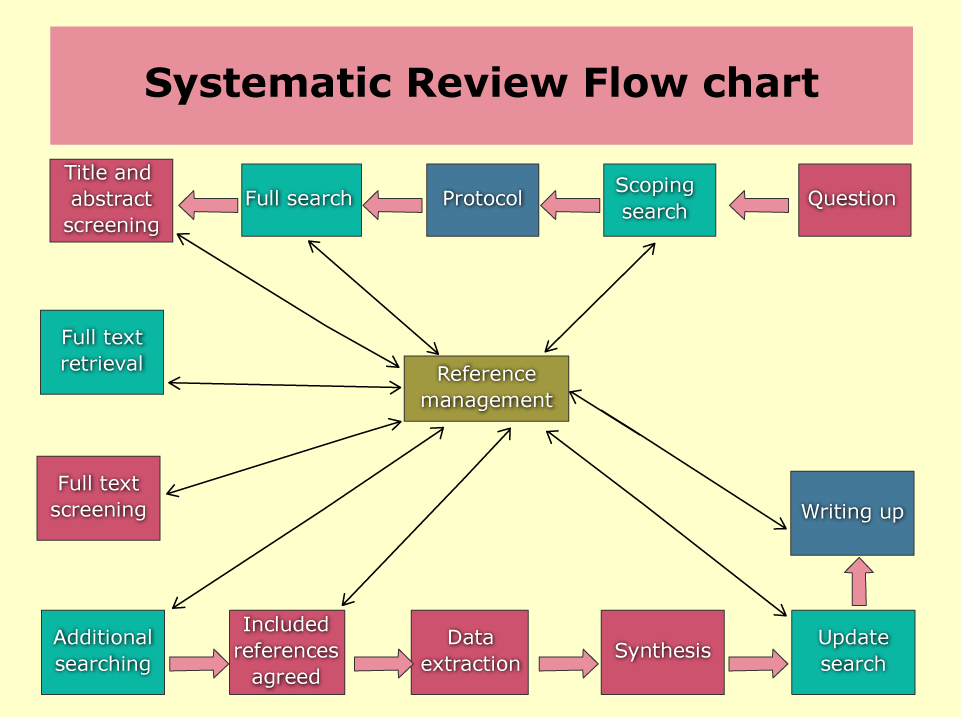 Fig 4. Systematic review flowchart
One can observe from the above points that a systematic review includes more rather than just putting down numbers. Although, there are advantages associated with the process it is often very time consuming. Systematic reviews are more clear and detailed.
The answer to why a systematic review would not include a meta-analysis.
Systematic reviews will most of the times, not necessarily, always include a meta-analysis of data in the form of numeric values that is collected from the studies. Meta-analysis might prove to be a bad choice when the answer to the review question is better with qualitative data.
Carrying out a meta-analysis would be a bad decision if the nature of your studies is too different to cumulate. For instance carrying out a systematic review on the outcomes of listening to music during studies on the exam performance of students and the data collected for one study is for classical music, for two it is on pop music and it includes both teenagers and children respectively, the other one can be related to death metal and the later on 80's classics. One cannot combine the above different data one meta-analysis. On the other hand if you opt for a synthesis by considering the interventions and populations which are not similar. To decide the type of studies to be included and excluded in meta-analysis is highly dependent on the question that is asked.
Carrying out a meta-analysis does not always have to be sensible even if you decide to carry out one. By defining your way towards the approach to meta-analysis prior, one can minimize the occurrence of bias introduction. This also helps avoid formulating decisions exclusively based on the outcomes or studies of your findings. Thus, allocating more time on protocol and following the analytic way of thinking before starting the systematic review is often preferred for proper utilization of time.
Table 1: Steps for systematic reviews and Meta – analysis
| | |
| --- | --- |
| 1. | Define clearly the question to be formulated. |
| 2. | Search all reliable studies addressing the question in different sources |
| 3. | Select the studies by means of clear inclusion and execution criteria, and evaluate the quality of these studies. |
| 4. | Extract data from each study and display them clearly. |
| 5. | Evaluate heterogeneity among the studies. |
| 6. | Calculate the results of each study (and combine them, if appropriate), estimating diagnostic accuracy. |
| 7. | Assess the effect of variation in study validity on the estimates of diagnostic accuracy. |
| 8. | Interpret the result, assessing how much of the review and/or meta-analysis can be generalized according to the patients' characteristics. |
Here are a few tips to help summarize meta-analysis and systematic review.
One should be careful of meta-analyses that do not opt for a clear and systematic procedure to select and identify the studies that need to be included in your analysis.
While creating a systematic review label or title one should concentrate on the question you want the answer to. There is not a necessity to restrict your study to only numerical data which can be meta-analyzed.
Define and mention your analysis plan well before you begin. One should be clear in reporting their methods. To keep on the right track one should follow the proper reporting guidelines like standards (MECCIR) and (PRISMA)
References:
META-EVIDENCE BLOG (2018). What is the difference between a systematic review and a meta-analysis? [Online]. 2018. Available from: http://meta-evidence.co.uk/difference-systematic-review-meta-analysis/. [Accessed: 5 April 2019].
Related Topics:
Meta Analysis Writing Services
scientific literature search services
Tags: