We provide our researchers and clinical trials investigators with the Information, data management, analysis, and statistical interpretations they require.
Our team protects the privacy and personal data of clinical trial participants. Pubrica experts help you to design questionnaires, create data collection forms, design study protocols, implement study protocols, database management, and web programming. Our team of statistical programmers, database/web programmers, and data managers have experience in study design, electronic data capture, and subject tracking systems, quality control procedures, and statistical methods. These services are combined and customized to meet your project requirements.
The Pubrica creates systems and procedures to avoid many of the difficulties typically encountered in research collaborations. With an experienced team of data professionals, we can provide data management and procedural consistency to ensure the highest quality data.
With the onset of clinical trials and pharmaceutical studies, it has developed in the directions of clinical trial methodology, health outcomes research, survival analysis, longitudinal models and generalized linear models of various types. This typically includes; modern statistical computing, frequentist methods, nonparametrics, likelihood and Bayesian approaches, mathematical statistics, design of experiments, linear models, survival analysis, longitudinal analysis, latent variable models, nonlinear models, categorical data analysis and clinical trials.
Faculty serve on interdisciplinary research teams and provide expertise in statistical methodology, sample size estimations, data analysis, techniques for handling missing data, design of experiments, robust estimation, survival analysis, analysis of microarray data, genomics, and proteomics.
Research areas include biostatistics methods and applications, bioinformatics related to cancer, osteoporosis, respiratory and cardiovascular disease, health informatics and data analytics, big data, data capture, management analysis for large clinical trial studies.
Our statisticians have decades of industry experience providing prompt and accurate reports, statistical summaries and efficacy and safety analyses. From the initial stage of study design planning to final stages of data analysis and interpretation.
Our biostatistical expertise includes:
Statistical consulting for drug and device development
Clinical trial randomization services
Sample size calculation and power calculation
Statistical analysis report writing for clinical study reports and/or manuscripts
Integrated efficacy and safety summaries
Data safety monitoring board support and participation
Multifaceted statistical approaches including pooled analyses and meta-analyses
Health economics and comparative effectiveness research
Detailed statistical input for protocols and evaluations
Detailed statistical analysis plans (SAPs) and table designs
Statistical Programming
Our team provides scalable statistical support. We have highly qualified, seasoned programmers who ensure the flexibility to meet your unique needs and internal guidelines. We can work with your templates or ours, or we can create a set of programming templates specific to your organization.
CDISC Implementation
Pubrica understands how to implement and use the current CDISC standards for data collection and submission. Get solutions to real-world data problems.
Our comprehensive biostatistical services include the following:
Genomics and genetics
Brain imaging
Medicare data
Clinical repository development
Data algorithm development
Programming big data
Bayesian analysis
Predictive modelling
Health economics
Model interpretation
Our data analytics includes the following:
Conjoint analysis
Clinical trial analysis
Database analytics
Claims data analysis
Predictive analytics
Our Clinical trial services includes the following:
Clinical Trial Study Design
Sample Size Calculation
Statistical Power Determination
Statistical Analysis Plan (SAP)
Development of TFLs
SAS programming for TFL's
SDTM and ADaM compliant datasets
Our biostatistics analysis includes the following:
R
Hadoop
Python
Tableau
R-Shiny
Plotly
Data Management & Analysis: Research Advantage
Our team of data management specialists, analysts, programmers and biostatisticians supports the information and analysis needs of researchers throughout Aurora Health Care.
We have three main areas of responsibility:
Data management: We manage the systems that track people participating in clinical trials. Our oversight ensures patient safety and privacy and project compliance with regulations.
Information retrieval: Our data experts find the information researchers need to conduct their research and clinical trials.
Analysis and interpretation: Analysts and biostatisticians analyze and interpret data from research and clinical trials.
Electronic Health Records
Electronic health records store people's health histories so physicians can understand their patients more fully and make the best treatment choices. For researchers and physicians running clinical trials, these records are important for choosing suitable candidates and evaluating health outcomes after the trial. Our team is responsible for the following:
Updates: Physicians need to know when their patients are participating in clinical trials for drug interaction and treatment safety reasons. We work with clinical trial coordinators to keep participants' records consistently up to date.
Recruitment: We can provide reports to clinical trial coordinators that identify potential candidates for clinical trials based on their health and treatment history. The coordinator will confirm if the patient may be a good candidate. If so, the coordinator will suggest a physician or another clinician inform that person of an upcoming trial and ask if he or she is interested in participating.
Consent: We track consent information to ensure compliance with the regulations.
Follow-up data: Our up-to-date system of participants in clinical trials allows researchers to contact people for follow-up evaluations or to recommend another trial for a particular participant.
Types of Literature Review: We undertake different types of literature reviews Traditional or narrative literature review, Systematic literature review, Meta-analysis.
Wide range of sources: Database: CINAHL (Cumulative Index of Nursing and Allied Health Literature), Cochrane Library, Maternity and Infant Care (MIDIRS), PubMed / MEDLINE, PsychINFO
Allow us to help propel your product forward.
I have used Pubrica Scientific editing service thrice and both the edited papers have been published by high-impact factor Journals in the field of Genomics and Genetics. It is great to know that you provide high-grade service at a very competitive price; I will certainly use your expert's help again and would recommend other non-native English speakers to utilize Pubrica's services for a honing their English and technical language and getting a publish-worthy material out there. Your team has pool of scientific illuminati. Thank you team Pubrica.
— PHD Student in Genomics, Sac State, California.
We'll scale
up as your needs grow.
No compromising on integrity and quality. Our processes are well defined and flexible to ramp up as per your requirements.
Partnering with
you till the project end.
We come with you all the way. From design to market support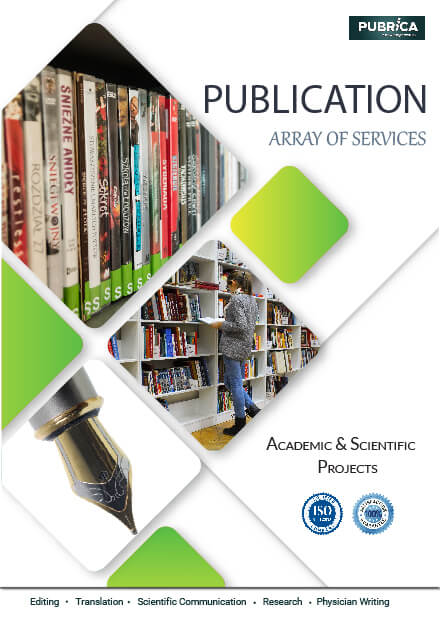 Pubrica Offerings
Pubrica offers you complete publishing support across a variety of publications, journals, and books. You can now morph your concepts into incisive reports with our array of writing services: regulatory writing, Clinical Report Forms (CRF), biostatistics, manuscripts, business writing, physician reports, medical writing and more. Experts in Science, Technology, Engineering and Mathematics (STEM), and pundits with therapeutic repertoire. Publishing that medical paper or getting a regulatory drug approval is now easy. Save time and money through Pubrica's support.
Download brochure on our offerings (PDF).